Full of fun, love and emotions. I just love this couple. Looking forward to catching up with them soon.
Caleruega, Tagytay
Two Gardens, Tagaytay
1st Photographer: Jaja Lifestyle Photography
2nd Photographer: Jayson and Jo-anne Urquiza
Events by Kath Enaje-Tizon.
Gown by Boy Kastner Santos.
Makeup by AnneVida.
Flowers by Serge Igonia.
All I can say is, thank you for making us a part of your special day. It's an honor to be trusted to document your most special day.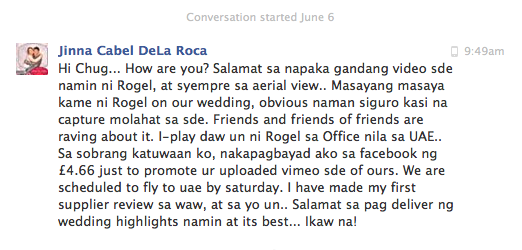 Rogel & Jinna (SDE) from Chug Cadiogan on Vimeo.
Marlo & Aiza (SDE) #aerialvideography
Caleruega Church
Le Jardin Rosela, Tagaytay
Photo: Jayson and Jo Anne Arquiza
They met 6 years ago in a company that they were both working for. Marlo jumped to another company but realized that he misses Aiza. So, he went back and luckily, Marlo was given a chance to be with Aiza. But their priorities kept them apart. Who knew that Marlo would be given a second chance? When he did, Marlo grabbed and claimed his 2nd chance. This changed their lives literally.
Marlo & Aiza (SDE) from Chug Cadiogan on Vimeo.
Caleruega
Splendido
Bridal & Entourage Gown and Flowers- Jo Rubio
HMU : Gigi
OTD/ Flowers : Flowers of May
Bridal Car : Don Roberts
Musician: Velvet Mood
We are glad to film your happy-ever-after wherever it may be.
Church: Caleruega Chapel
Reception: Colossian Gardens
Photographer: Richard Buan
Bridal Gown & Groom's Suit: Boy Kastner Santos of Sheaths Couture
Coordinator & Emcee: Darlene Tan-Salazar of Perfect 10 Weddings
HMUA: Val Villarin
Caterer: Juan Carlo the Caterer
Caleruega
Sonya's Garden
Photo: Jayson Arquiza and Jo Anne Arquiza
Coordinator: Qualad Events Co.
HMU: Nica Espinelli-Macam
Gown: Renn Eusebio
One of the couples I have met that moved me because of their love story. Both genuinely kind sincere persons and who have always been present in some weddings of their friends that I have documented. Congratulations and best wishes, Alvin & Coree!
Transfiguration Chapel, Calaruega
Mariposa Road, Tagaytay
Photo: Marvin Dungao